Anatomy of a hurricane - from its eye to swirling winds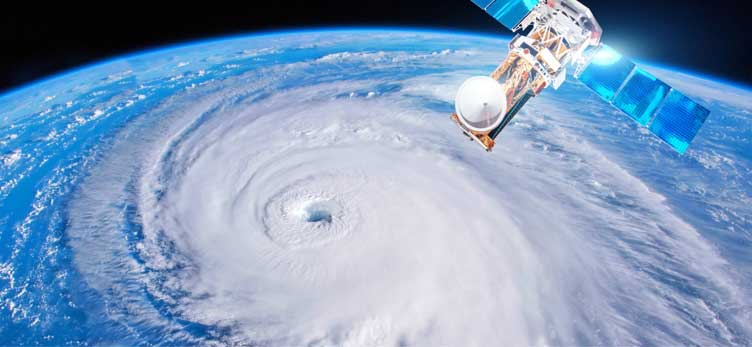 Everything you should know about these powerful storms What is a hurricane? What makes it so dangerous? If you've ever wondered about what these tropical cyclones are all about, read on.
A hurricane by any other name...
A sizeable swirling storm that forms over warm waters in tropical areas is called a Hurricane. With sustained wind speeds of at least 74 miles per hour and an area of low air pressure in the centre called the eye, they are better known as cyclones in the Indian Ocean and typhoons in parts of Asia.
How do hurricanes form?
Hurricanes usually develop where sea surface temperatures are at least 80°F, and there is plenty of moisture in the air. These conditions are typically found over tropical waters, and when cooler air replaces rising warm moist air, it heats up and begins to rise. This leaves lower air pressure at the surface, and surrounding air rushes in to fill the void.
This cycle causes the formation of giant storm clouds that begin to rotate due to the Coriolis effect, creating the counterclockwise flow that makes a closed low-pressure system that rotates with the turn of the earth. If there is enough warm water, the cycle will continue storm causing clouds and wind speeds to grow from a tropical depression and form a hurricane.
Eyewall
Heavy clouds wrap themselves around the centre of circulation as the low-pressure centre grows stronger. This formation allows wind speeds to grow stronger and more potent. This is the most dangerous part of the hurricane and where the highest speed winds can reach speeds of 155 miles per hour. The strongest winds are usually found in the northeastern part of the eyewall, where the storm's forward motion adds momentum.
Rainbands
A tropical storm can quickly grow and gain strength. Next, sizeable spiralling rain bands will begin to develop around the storm. They act like elongated lines of storms, and can drop heavy rain, damaging winds, and sometimes tornadoes when the hurricane makes landfall. The bands grow more intense and frequent as you get closer to the centre of the storm.
The Eye
At the heart of the hurricane is the eye. All of the air sucked up by thunderstorms in a cyclone's eyewall creates this centre of high pressure where there are generally no clouds. While the winds are calm here, it is the most dangerous part of the storm and works as an exhaust pipe. It filters air out and away and keeps it going. The eye of a storm can be more extensive than entire islands or just a couple of miles in diameter. But as a storm grows stronger, it gets even more defined and is visible from above.
Categories
Tropical cyclones are categorized according to the speed of sustained winds that power them. They usually start as Tropical Depressions with winds of 38 mph or less and can swell into Tropical Storms with winds reaching up to 73 mph. If the storm grows beyond this phase, it is called a Hurricane whose strength is measured via the following categories.
Category 1 - 74 to 95 mph

Category 2 - 96 to 110 mph

Category 3 - 111 to 129 mph

Category 4 - 130 to 156 mph

Category 5 - 157 or higher mph
When hurricanes make landfall, they can cause very severe damage to life and property. Staying alert and keeping up with the latest weather channels that tracks and forecasts hurricanes are your best bet to survive these destructive forces of nature.
All third-party names (including company and service names), graphics and logos used here are trademarks or registered trademarks of such third parties. Use of them here does not imply any affiliation with or endorsement by such third-parties