Rainy Day? Here's what to wear to stay protected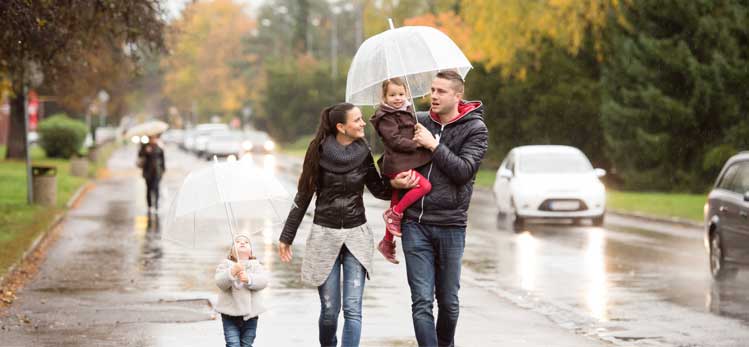 Traveling and don't know what to wear on a rainy day? Don't let bad weather stop you from enjoying your vacation. Ensure you look stylish in all of your Instagram posts with these outfit ideas and tips.
PLAN BEFORE YOU PACK
Always check the weather of your destination. This is the most important thing to do, to ensure you pack the right kind of clothes.
Carry a compactable umbrella to save space while packing. These umbrellas not only protect you from the rain but also from the harsh rays of the sun when traveling to hotter destinations.
Investing in plastic covers for travel documents can help avoid damage from beverage spills, accidental drops and most importantly rain.
For extra protection, buy rain covers for your travel bag. A lot of important things can be saved from the rain including money, passports, licenses and other documents.
PACKING ESSENTIALS
Focus on carrying versatile clothing and accessories that can be worn in different ways while helping you look stylish & stay protected from the rain.
Shoes
One of the toughest decisions of packing for a wet destination is rain boots, since they take up a lot of space. The solution is to figure out if you'll wear them multiple times. Rain boots are necessary if you're planning on doing more outdoor activities like hiking, visiting a farm or countryside since they can protect you against mucky water & mud.
Leather boots are a great option if you're traveling to a city. They will most likely go with any outfit and can be styled for all sorts of occasions. You can also invest in all-weather shoes which can be used after your vacation as well. Whatever footwear you carry, make sure the soles grips are good enough for walking on slippery surfaces during rainy weather.
Clothes
When traveling to a destination with rainy weather, your best bet is to carry dresses, skirts or leggings which can be worn by themselves or under dresses. Leggings and tights are highly recommended because of their ability to dry extremely fast. Avoid cotton fabrics including leggings or trousers made of the same. Jeans are not the best option since they are a thick fabric they might take too long to dry.
To elevate your look ensure you get a trench coat since it can be styled with almost any look and give it a sophisticated twist.
Makeup
Your umbrella and jacket might not keep you dry during strong winds. Hence waterproof mascara and liner is a must.given if you do plan to wear makeup. Use tinted moisturizer since it is lightweight and won't make your skin feel cakey. Stick to cream makeup sticks since they last longer.
We hope you found these tips and outfit ideas useful and will use them to stay dry and protected on the next rainy day. And remember it's not the end of your vacation if you get drenched in the cold rain. After all, there's nothing that a hot shower can't solve!
All third-party names (including company and service names), graphics and logos used here are trademarks or registered trademarks of such third parties. Use of them here does not imply any affiliation with or endorsement by such third-parties