Top 10 hottest places on earth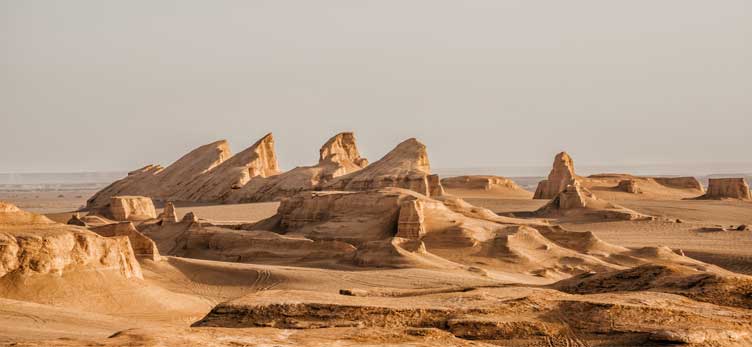 These places give new meaning to the phrase 'sweating it out'! While summers can make most of us think of beach vacations, tan lines and popsicles, in some parts of the world temperatures are so extreme they make it next to impossible to bear. In no particular order, here are some places where the mercury is known to soar.
In no particular order, here are some places where the mercury is known to soar.
El Azizia, Libya
El Azizia made history after a weather station at Libya recorded the highest temperature ever directly measured on Earth at 136.4°F. For almost a century, this place was known as the hottest place on Earth. However, the World Meteorological Organization found this number to be inaccurate due to how it was recorded and the skills of the persons recording it.However, temperatures in and around this area regularly climb to over 120 degrees Fahrenheit even today.
Flaming Mountains, China
Most people think the Flaming Mountains, in Xinjiang, China were named after the striking gullies eroded into the red sandstone bedrock that look like flames. But the name is also perfect because these mountains are incredibly hot. The highest land surface temperature recorded from space here was in 2008 at a blistering 152.2 degrees Fahrenheit.
Dasht-e Lut, Iran
Uninhabited, parched and desolate, there is no weather station to measure the temperatures in the Lut Desert. Yet NASA satellite with a Moderate Resolution Imaging Spectroradiometer (MODIS) measured temperatures here from space for seven years. Reports from this study show that in five of those seven years, the hottest place on Earth was easily in this desert. With 159.3 degrees Fahrenheit measured in 2005, it's confirmed to be the highest recorded reading to be taken on Earth.
Badlands, Australia
One of the driest inhabited continents on Earth, a large part of Australia's interior outback is desert land. Too remote to have a weather station in the area, satellite readings show excruciatingly high heat for much of the year. In 2003, a land temperature of 156.7 degrees Fahrenheit was recorded here.
Bangkok, Thailand
Smoggy and severely humid, the World Meteorological Organisation dubbed Bangkok - the Earth's hottest city! And with good reason. While average temperatures in the city hover at around 82-83 degrees Fahrenheit throughout the year, March to May sees it shoot up into the '90s with humidity of almost 90 per cent. Even at night, temperatures rarely drop, making it hot and sticky for extensive periods.
Death Valley, USA
In the heart of the Mojave Desert in California, Death Valley is the lowest, driest and hottest place in North America. The valley recorded a high of 134 degrees Fahrenheit in the summer of 1913. Today, highs in the area reach 47 degrees Fahrenheit during the summer months.
Dallol, Ethiopia
Dallol has the highest average temperature of any inhabited place on the planet. Filled with acidic hot springs and gas geysers, an average daily temperature of 105 degrees was recorded from 1960 to 1966.
Ghadames, Libya
The town of Ghadames is built around an oasis. It has been designated as a Unesco World Heritage Site due to its iconic mud homes that protect its 7,000 inhabitants from the intense temperatures. It reaches an average high of 104 degrees Fahrenheit regularly.
Timbuktu, Mali
This city on the southern edge of the Sahara is hot even during the winter months with average highs over 130 degrees towards recorded regularly. The encroaching Sahara Desert is slowly taking over Timbuktu, making desertification a significant concern.
All third-party names (including company and service names), graphics and logos used here are trademarks or registered trademarks of such third parties. Use of them here does not imply any affiliation with or endorsement by such third-parties